Yesterday, I was foraging for food in the fridge to feed the extreme hunger I was having (
padahal duduk umah je, bukannya buat keja pape pun, tehee
). Then I found a pack of minced beef inside my mom's fridge. Hm, my mom asked me to make some curry puff the other day and that was when I realized that we were out of potatoes and some curry powder to make the
inti karipap
. When my mom bought those things, I started surfing the
recipe
to make this very famous Malay traditional snack (a.k.a
kuih
).
While surfing, I came to remember myself watching an episode of the popular Korean television show We Got Married; Khuntoria Couple last week. In the episode, Victoria-shi was making some dumplings for his 'husband' Nichkhun and some guests (the guests were 2PM members who came over to visit their house). The dumplings looked really tasty. Seriously! For your information, Korean dumplings look similar to Malaysians' karipap, despite the fact that the dumplings are usually steamed but our super delicious
karipap
are deep fried (no such thing as steamed
karipap
I guess). The filling for Korean dumplings is usually a mixture of meat (such as turkey) and vegetables (zucchini). That sounds pretty much like our own
karipap
filling right?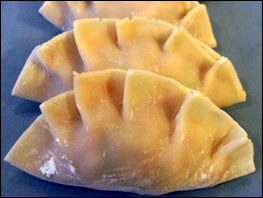 Spot any difference? (picture of Korean dumplings is a courtesy from Google)
Hm, I was thinking, why don't I try making dumplings instead of
karipap
? But then, where to find turkey? Maybe I can try it next time. Then I found this
recipe
and I believe that its gonna be really good since many people had commented positively after trying the recipe by themselves. Firstly, I cooked the filling and left it in the fridge for a night. This morning, I started making the dough. Actually it was a bit tiring making the food alone. Still, better than doing nothing (buat kuih bleh gop makan, iye dop?).
After I completed making the dough, then only I realized how stiff the dough was! What a noob
karipap
maker. Maybe that was because I didn't put enough water while making the dough. Well, it was quite a big problem since it makes it harder to knead it. That's why I took quite some time to complete all the process of karipap making (huhu, siyes berpeluh). The filling was made of minced beef and potatoes together with the spices and onions. I don't know whether the filling is good or not but I hope it's going to be okay. It should be okay.
Due to my careless mistake, I get to make around 25-30 pieces
karipap
only, instead of 50 according to the recipe. Maybe the crust was a little bit too thick so the dough was not enough to make 50 pieces. Alas, what a waste! I even failed on making good kelim karipap although my housemate, Izah, had already taught me how to kelim karipap. Due to my lack of skill in making good kelim, I tried to imitate Korean way of making their dumplings LOL (konon-konon nak tiru stail Korea, ngehngeh!) because it looks a bit simpler than the usual pattern we see for karipap. Still, it looked a little bit different from the original pattern.
However, to do kelim just like Korean dumplings, we need to spread some egg white in order to make both end neatly attached so that the filling won't come out during frying (got what I mean, folks?). Unlike the original kelim pattern for karipap, we don't need the egg white (as an edible glue) because the kelim is good enough to avoid the filling from bursting out. Using white egg was a bit troublesome though since I had to spend more time to brush it along the pastry before putting in the filling.
Wanna see how a noob makes karipap? Lets check it out, peeps!




Firstly, you gotta roll the dough into a circle
A rolled pastry in its uneven shape.
After you roll it, use a mold to make a circle pastry. I used a container cap to make this circle.
Pretty pathetic but it worked. Then, spread some egg white evenly on the pastry.
Next, put in the filling according to your own preference. If you want to have that full taste of the filling on your taste buds, put more filling. Maybe tw0 to three spoons but I do not encourage that folks, coz you may have your karipap bursting when you fry'em. You wouldn't want that happen, trust me.
After putting in the filling, clamp both ends. Make sure both edges are attached tightly and neatly. The usage of egg white really does the trick as it acts like a glue to stick'em together.




Okay, now we make the kelim. It's quite easy I think. Starting from the middle part of the pastry, press the edge using your index finger (finger, not FINGERS) of your left hand and pull it out using your finger of your right hand until it pointed out, like this.................
Good one, eh?
Continue pressing the edge until the pastry looks a
little bit like this (I don't know why but my pastry definitely looks like a shell)
Continue making other pastries until all dough are finished. Then, put them layer by layer but never put them on top of one another because karipap pastries can easily stick to each other, making it hard to separate them for frying. And don't forget, if possible, lapik lah guna plastik, macam orang berniaga karipap segera tu. huhu.
That's it! Easy right? Now, all you gotta do is deep fry them.
comment: karipap engkao ni keras la. lupa nak letak air ke?
miss noob: (terdiam sedih dan sakit gigi sebab kunyah karipap keras, wooo~)
woo, keras wooh!
p/s: result da kuar da, bedebor la jugak rasenye sampai sakit perut.