Mata nyamuk
Subhanallah. Itu ungkapan yang tersembul dari mulut saat melihat keindahan mikrokosmos ciptaan Allah swt di bawah lensa mikro. Kagum aku melihat seninya penciptaan Allah yang Maha Agung. Mana mungkin ciptaan semulia dan sehalus ini tiada penciptanya. Impossible. Kita ambik contoh yang biasa kita dengar. Mengikut sebuah hadis, titian sirotul mustakim dikhabarkan mempunyai ketebalan sama seperti seurat rambut dibelah tujuh. Memang sangat tak logik jika difikirkan oleh dangkal pemikiran jahil seorang manusia tanpa melalui landasan agama yang sebenar. Namun, semuanya mampu dilaksanakan oleh Sang Pencipta yang agung lagi Maha Bijaksana. Lihatlah sendiri belahan rambut di bawah mikroskop seperti yang berikut.
Subhanallah. Halusnya ciptaan Yang Maha Kuasa. Bukan setakat tujuh yang boleh terbelah. Berbelas-belas belahan pon mampu dilakukan oleh Saintis, apatah lagi Allah swt.







Rasa terpesona bila tengok imej-imej dari microscope. Sangat takut dan takjub pada waktu yang sama...
Hydrothermal worm. SPooky. Rupa da macam watak raksaksa dalam citer Power Rangers.



Flea. Double the spooky
Cat flea. Rupa ganas giler.
Hye. Comelnya awak.
Lebah ke lalat, aku pon tak sure. Comel je atas badan dia ada water droplets.
Sebelah kiri ialah imej bukaan mulut embryo pada hari ke-22 penempelan pada dinding uterus. Imej kanan ialah bukaan mulut lintah, si penghisap darah. Hebatnya wahyu Allah melalui Al-Quran yang menerangkan bahawa manusia pada proses kejadiannya dalam rahim telah melalui satu fasa di mana ia menjadi Alaqah (yang membawa 3 tafsiran; gumpalan darah, sesuatu yang tergantung, LINTAH). See how miraculous verses of Al-Quran are???? Astoundingly beautiful.
Yang ni imej telur serangga under Scanning Electron Microscope. Wanjang daebakkk!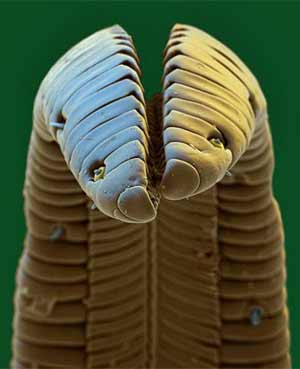 Split head??
Sepandai-pandai rama-rama terbang, akhirnya jatuh ke tanah jua.
Da macam gaya orang angkasa pakai space suit. Kawaai and funny at the same time.
Creepy me yeah I know. Tengok la muncung dia tu. Da macam vacuum dah. Nama dia water bear.
Olololo comeynye. baru balik dari library ke? Comel je wood ant ni pegang mikrocip.
The world is vast and there are still many mysteries yet to be discovered. Embrace yourself to seeking the truth of this miraculous world. Dive into the astounding nature with the endless spiritual means as to make yourself close to the Creator...









Source: Google.com