Mukkyaa!!! Gyabbooo!!!




Nodame Cantabile is such a cheerful and wonderful drama. I love how meticulous Japanese make their animes into live action. Like this drama which I am currently infatuated about. It depicts a story of a chaotic music society full of people from various walks of life. You can see how they do actually play the instruments and conduct the orchestra the way pros in musics do!! Each scene is made as close to the scenes in anime as possible. Aww, they are irresistible. From good choice of actors/actresses to apt balance between real-life actions and the fantasy elements from the magical anime, the drama had been such a good job. Kyaaaaaa, hontoni subarashiiii!!!!
This drama is so good. It made me feel good. I keep on repeating the drama. I finally get to love classics (shocking actually for I never thought of liking this kind of music). It is not a regular story of a bunch of a student musicians. It's about what they learn together, feel together, and enjoys things in life together. It's about team. In this one team, a lot of stories are mucked up making a harmonious blend of joy. The story is not solely focusing on music; it also emphasizes the importance of love and friendship. One thing that I like from the drama is that it teaches us to be strong in pursuing our dreams. Never give up in things you do, coz everybody has prospects. It takes some courage and hard work to reach to what we have been chasing in our life.
I love the way the drama portrays its main protagonist, Nodame. She is so eccentric and mischievous in nature. Most of the time she behaves like a child, though she is already 22. In this drama, she is an ordinary girl who just happens to love playing piano. She enjoys playing piano without the tiniest thought of impressing anybody. Though people say that she plays piano carelessly, the way Nodame approaches music is so amazing that she can even play piano by merely listening to the song without looking at the score. Good ears, huh? Furthermore, she can play a music piece using her own special technique, though a bit astray from the real piece, hence she was able to produce her own distinctive sweet sounds like no other. That what makes Chiaki loves her piano (and eventually, Nodame herself).
Despite the childish nature of Nodame, her constant approach towards her senpai eventually blossoms a sweet love between them. Their passion in music had brought them together through those thick and thin. Although Nodame is freakish, clumsy, messy, a bit dummy, childish and loud in nature, she is a good pair to her senpai who is a perfect guy (well he is popular at college, he can cook, clean, plays piano, violin and even conduct an orchestra!!). That's what we call universal attraction. It's simply about how different poles of magnet attract each other no matter how ridiculously different they are. Weeeeew~
While Nodame has been so talented in piano (albeit a bit sloppy), Chiaki had also been slogging his way to achieve his ultimate dream of being a conductor. His dream was to conduct an orchestra in Europe. However, due to his fear of flying (aviatophobia/p
teromerhanophobia)
which was caused by a tragedy during his childhood, he was not able to fly ever again. The incident happened when he was 11. The plane he was in had to make an emergency landing at that time. And then, there was another incident about an old man who suffered a heart attack during the emergency landing. Ahh... too much remorse for Chiaki. Fortunately, Nodame was there to save Chiaki from his phobia. How?? Watch it yourself hahahahaha.
Nodame loves to tag along with Chiaki. She always love to join Chiaki for dinner/lunch (even uninvited lol). She was quite a gobbler and loves her senpai's cooking.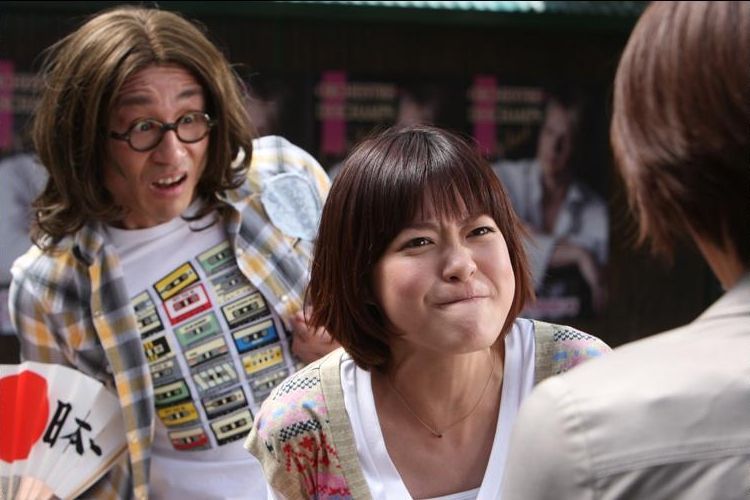 Her funny expressions always make me laugh.... The young and lively personality of Nodame was successfully brought to life by Ueno Juri. In fact I personally think Ueno Juri in real life is pretty much like Nodame that she can naturally become childish and frolics around like a kid in this drama.
Milch Holstein!!! Or maybe you prefer to call him Franz Stresemann. This character makes the drama comes alive! He is the maestro who came from France to conduct a specially recruited orchestra at the music academy Nodame was coming from. His was initially portrayed as the dirty old man who pokes around like a mad man and he also loves women. Nevertheless his unbridled passion towards music, paired with his utmost respect towards people had made him one of the important characters in the drama. Hahaoo!
A scene when Milch tries to seduce Nodame to a hotel and Chiaki being irritated and jealous. He tries to stop Nodame from following the unscrupulous guy by saying that he would let her be with him all night if Nodame was to stay (hahha lol this is so funny). Just see how easy Nodame actually falls for his trap.
Love the scene when Nodame plays Rachmaninoff Piano Concerto 2 with Chiaki after she had been ranting on how desperate she was to play a concerto with him that she had learnt the piece by heart. It was a wonderful synchronization!!!
Cute pair *golden pair*. I love Ueno Juri as Nodame and Tamaki Hiroshi as Chiaki. They are meant to play the drama! I also like other casts as well. They are simply amazing.... Mmuahhhh I love NODAME CANTABILEE~~